ACTIVITIES INCLUDE:
Planet Cashless 2029
Martin Zeilinger
Should a cashless society leave us quaking in our boots? Come play our game imagining the future of money – and how we'll get by if there's no cash to pay for things. You'll get given a scenario and asked to design a way to make exchanges in the future. Are you a 'Barter Bender' or 'Sharey Carey'? Or will you sink the system and start again? Find out!
Times: 10.00-5.00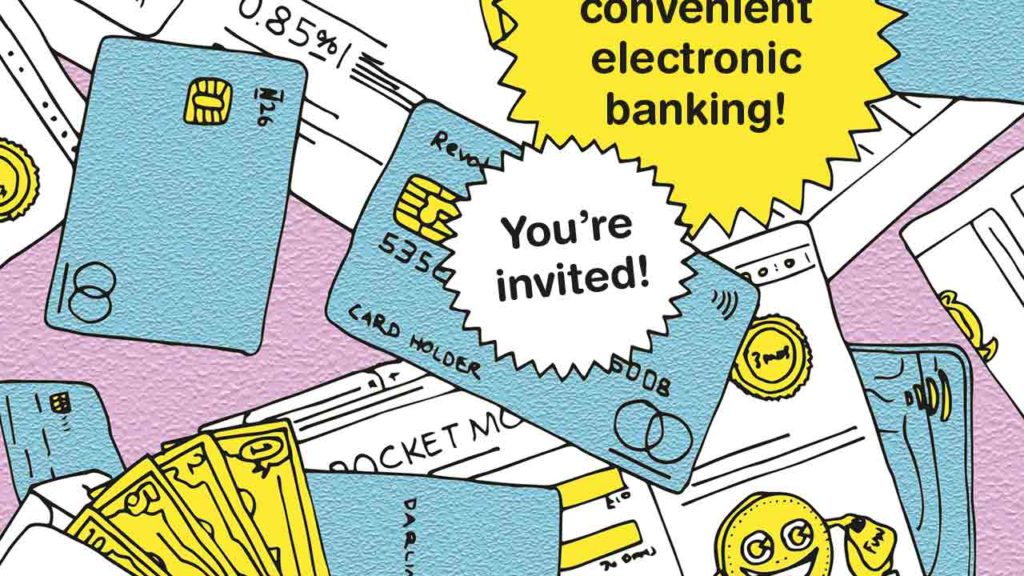 Image credit: Studio Hyte
Future Fictions of Finsbury Park
Mud Howard and Stephen Oram
Gather round and listen to two short stories emerging from the heady mix of sci-fi authors, scientists and the folk of Finsbury Park. Come and decide if these are the futures you want for your park?
Times: 11.30, 2.30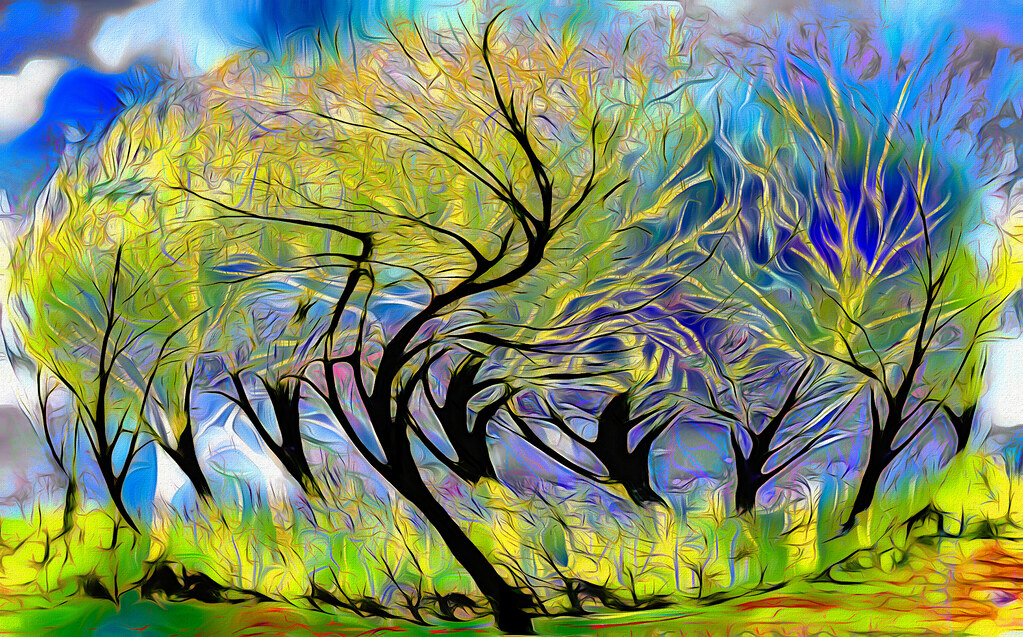 Rusty Russ Twisted Tree ReTwisted via photopin (license)
Play Then Now or Never
Idit Nathan and Helen Stratford
Take part in the launch of an entirely new app that leads you on a walk of the park that's like no park walk you've ever been on before! This app was designed with local people through similarly silly strolls and we need YOU to bring it to life! Drop by and we'll show you how to download the app (it's very easy!) and collect a map that will help you 'catch' prompts all around the park. We'll also have colourful badges for you to take home.
Times: 10.00-5.00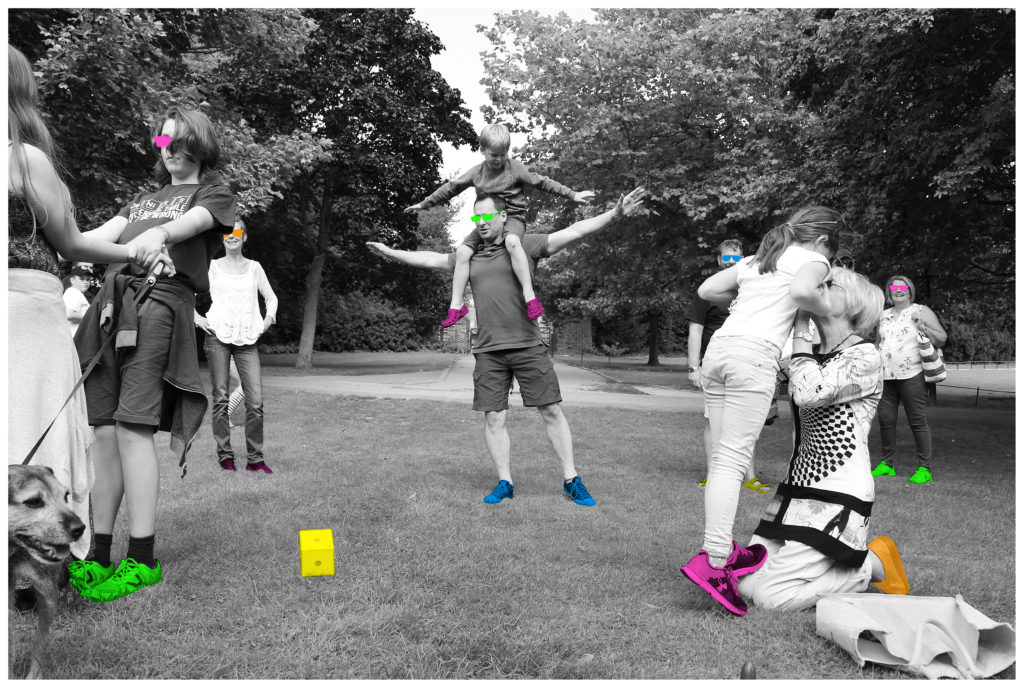 Photo credit: Julian Hughes (from Walk & Play YSP, 2018)
Jason and the Argonauts
Jason Wilsher-Mills
Pedal Power, come meet Jason and the Argonauts – a set of wild and wacky AR-enabled characters who have come to visit you. Jason will show you how he made them and how you can help him make new ones all about the Pedal Power community. (this activity is especially for Pedal Power, but all welcome)
Times: 10.00-5.00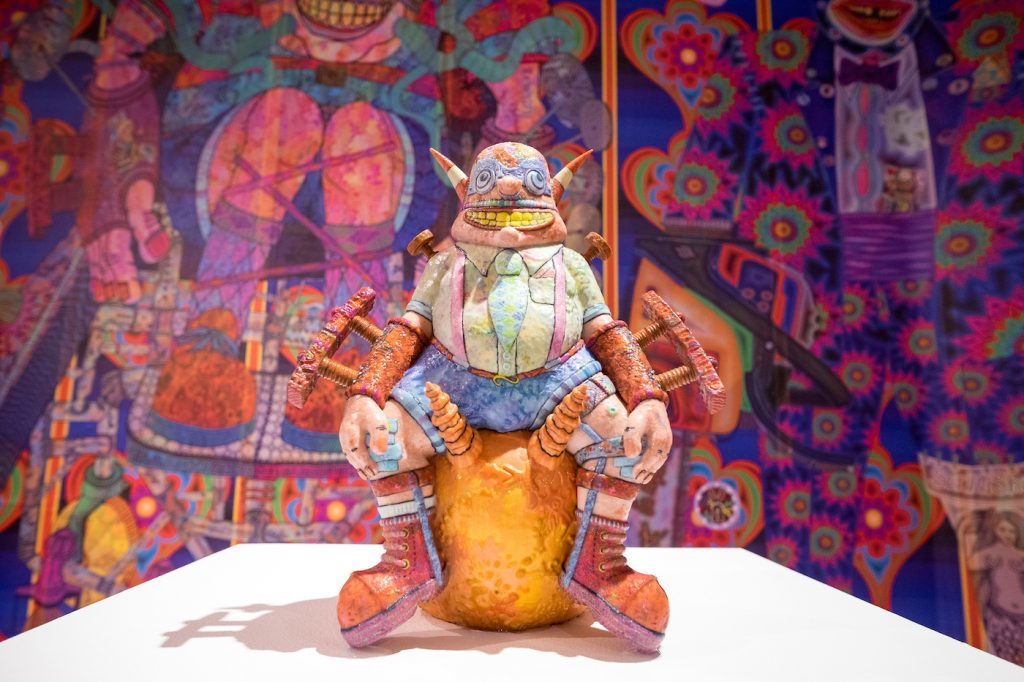 Jason Wilsher-Mills, East Hull Elvis & His Dislocated Pelvis. Image credit: Jerome Whittingham
Community Drumming
Alex Dayo
Drop by and join in a family-friendly Community Drumming workshop led by Alex Dayo, master drummer from Burkina Faso (West Africa), find your inner rhythm and let it out!
Times: 10.0, 4.00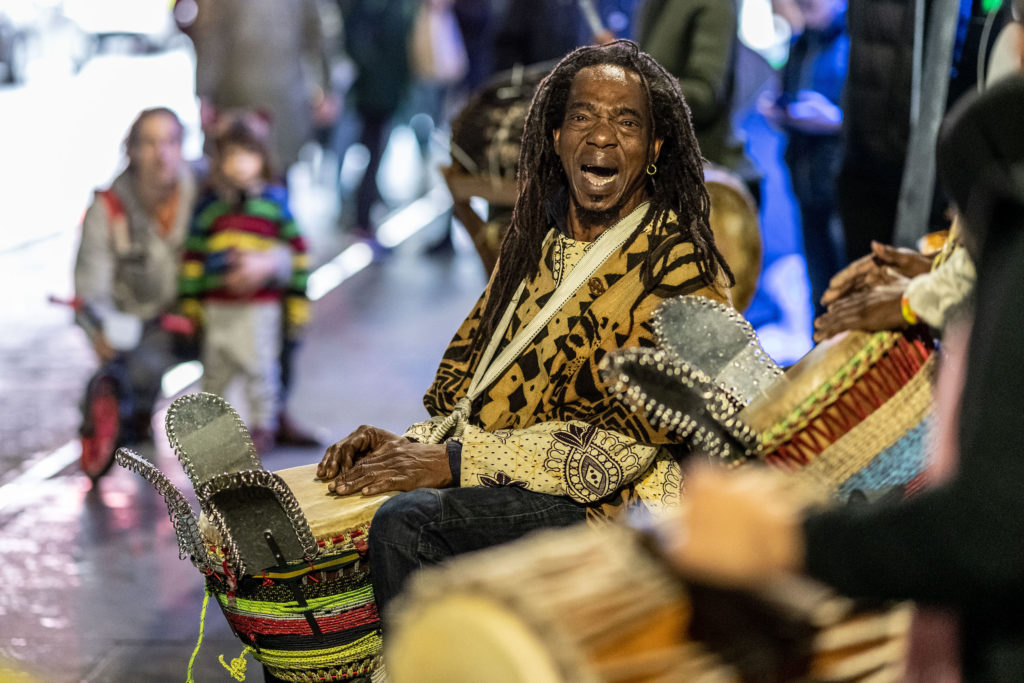 Image credit: Matthew Usher and 2NQ
The Extended Trans*feminist Rendering Programme 
Possible Bodies: The Underground Division – Helen Pritchard, Jara Rocha, Femke Snelting
Join a research session with Possible Bodies: The Underground Division, a team of fiction writers, geo-techno-scientists and trans*feminist device problematizers. A hands-on collective investigation into the micro, meso and macro political consequences of earth scanning practices. Together we'll look at what undergrounds are rendered when using techniques such as Terrestrial Light Detection and Ranging, magnetic resonance, UltraSound, and Computer Tomography.
Times: All day but limited places, book now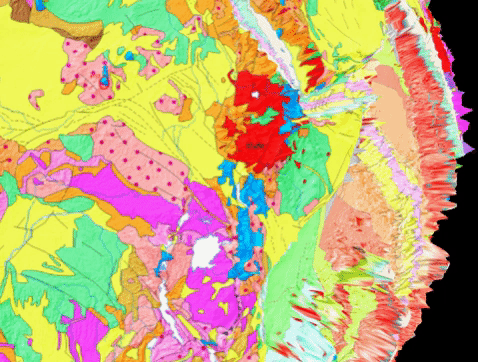 Podcasting the People's Park 
Feminist Internet
What have parks done for their communities? What role do they play in our lives both socially and politically? What kind of spaces could they be for us in the future? Feminist Internet launch a special episode of their podcast series and an accompanying zine for the Albion fair that unearths the history of Finsbury Park, examining the role urban parks play within their communities and speculates about their potential futures.
Times: 10.00-5.00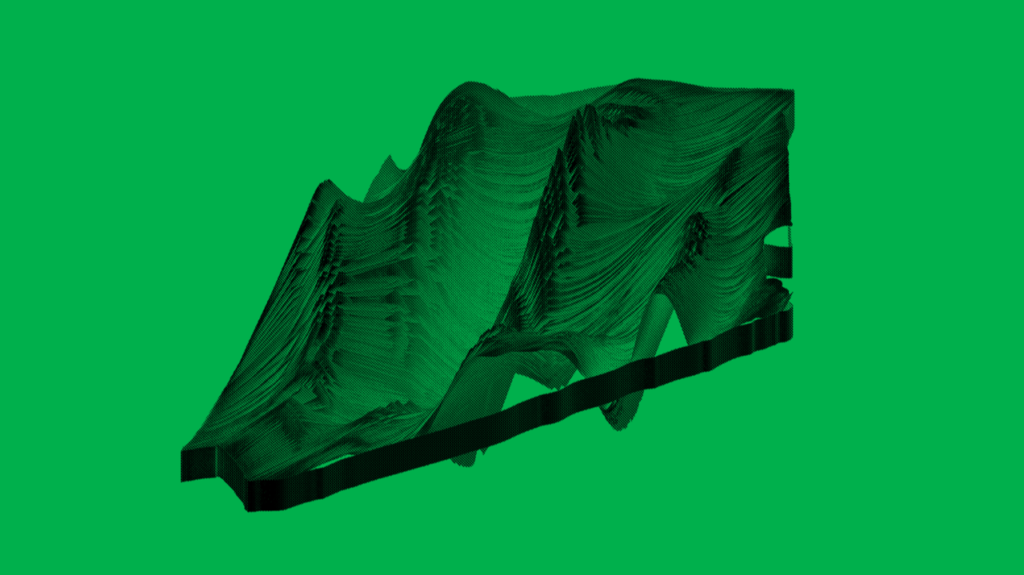 Image credit: Feminist Internet
Minutes in the Park
Larisa Blazic
It's time to call this meeting to order! Join a special Theatre of the Oppressed inspired performance by reading aloud  meeting minutes published by Finsbury Park's many organisations and community hubs.
Times: 12.00-2.30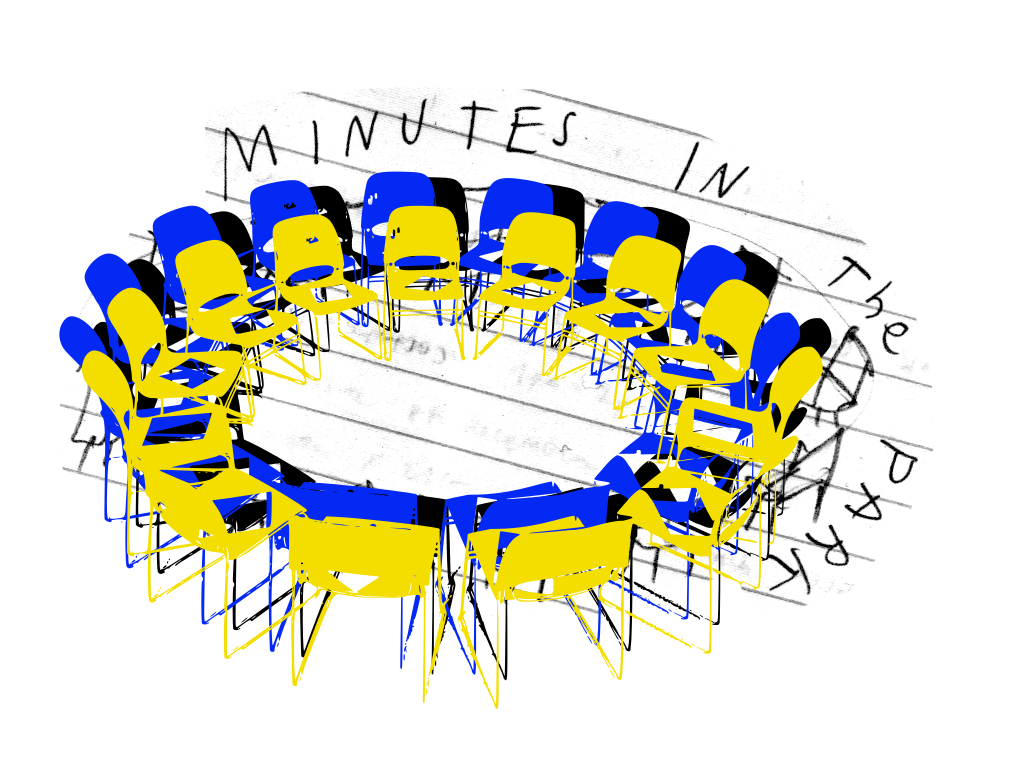 Image credit: Larisa Blazic
Who Am I?
Sunara Begum
The 'Who Am I?' workshop is about reversing technology and reflecting on history through creativity. Design and create your own special crest and emblem to signify who you are. Investigate the world of sound through percussion-led music making and immerse yourself in the art of expression through movement. The workshop looks at understanding who we are, tapping into our inner self, asking questions, seeking answers and sharing personal and collective journeys.
Times: 10.00-5.00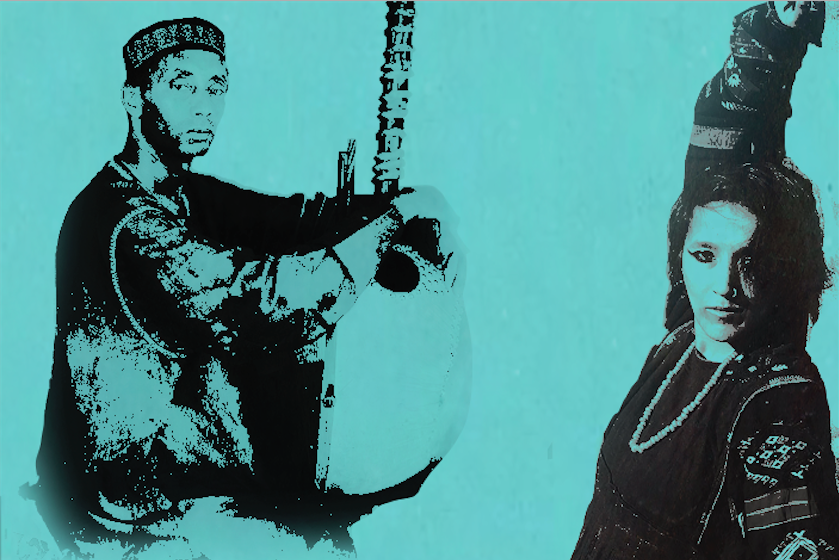 Tricia McGrath of 2D Design www.2ddesign.co.uk
DoxBox trustbot
Artist: Alistair Gentry. Curators: Hannah Redler Hawes and Julie Freeman.
Just how trusting are you? Meet the hot-pink puppet-robot who wants to tell you all about your life online!  How much will you reveal and how much does the trustbot know already?
Times: 12.00-2.00, 3.00-5.00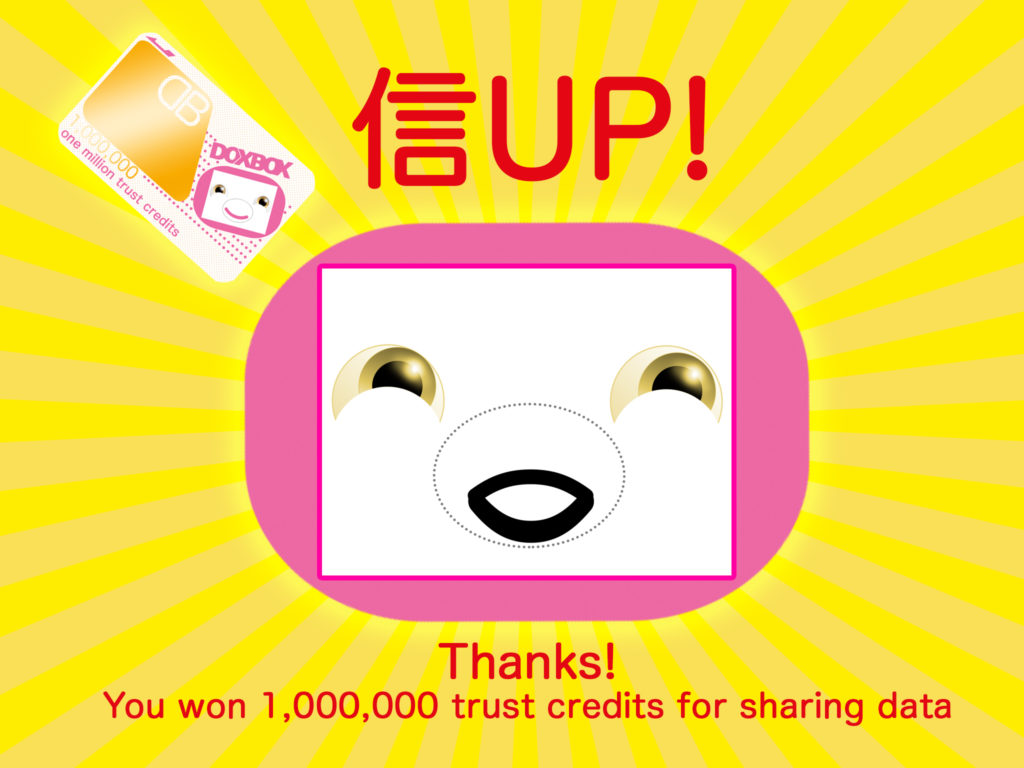 Image: Alistair Gentry
Future Machine 
Rachel Jacobs
How will you dress fancy for the Future Machine? Rachel Jacobs needs your help to create a stylish parade for the unveiling of the Future Machine this autumn. What will you wear?
Times: 10.00-5.00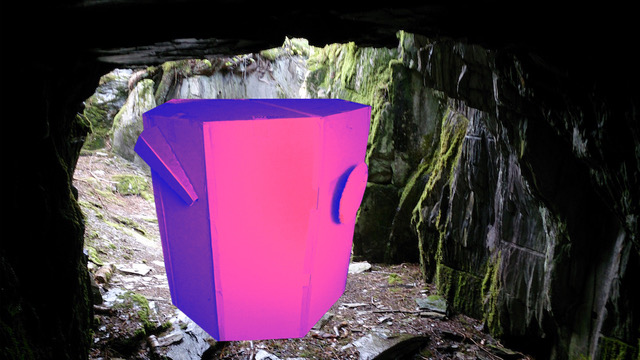 Image credit: Rachel Jacobs
Solidarity Barbeque
They Are Here
There will be  a vegetarian and Halal barbeque on the go, with servings inspired by recipes from the refugees They Are Here have been collaborating with. Food will be offered in exchange for a sketch reimagining the transformation of the garden, this will inform the changes taking place in the Autumn.
Times: DJ 12.00-4.30. BBQ 1.00-4.30

Curating London: Finsbury Park
Kathryn Davis, Dhelia Snoussi and Zey Kussan, Museum of London
What might future archaeologist say about us in the park? How right (or wrong!) could they be? Discover the left objects found in park through the Everything project, and see what connections you can make to you, the park and 2019.
Times: 10.00-5.00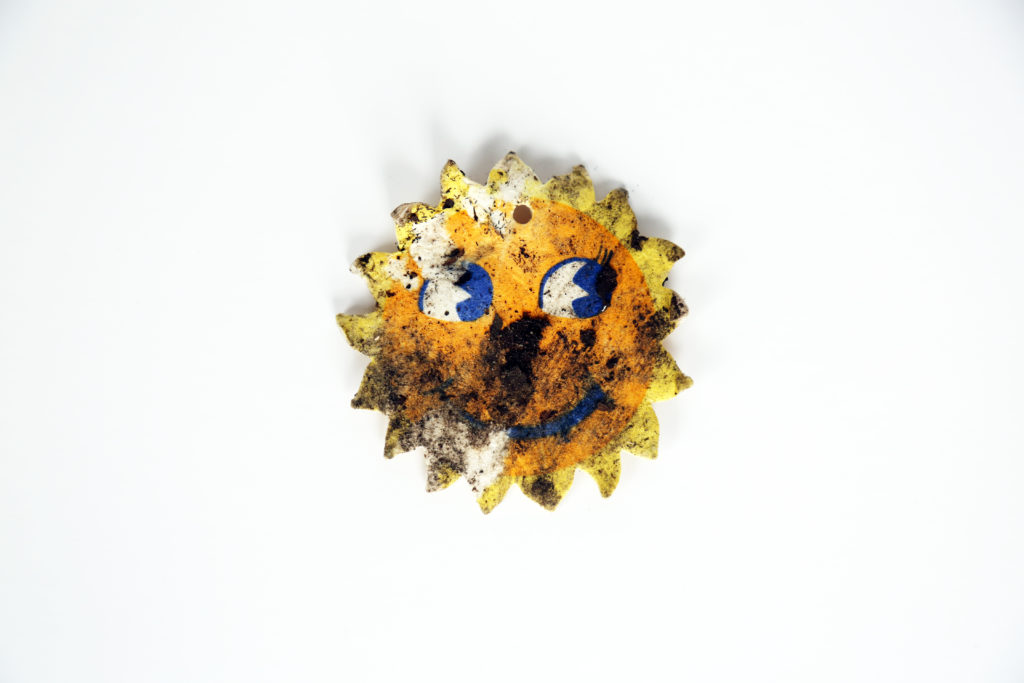 Image credit: Simon Poulter and 2NQ
Festivals, Events and Inclusive Parks
Andrew Smith, Goran Vodicka
Come and map your experiences of Finsbury Park and feed into research about urban parks and festivals.
Times: 10.00-5.00
---
Featured image: Image by Studio Hyte, artwork in image by Jason Wilsher-Mills